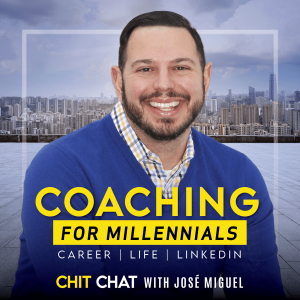 Tuesday Nov 09, 2021
EP100: 100 Episodes Of Coaching For Millennials: Look How Far We've Come!
EP100: 100 Episodes Of Coaching For Millennials: Look How Far We've Come!
Hello Chit Chatters!
WE DID IT!! 100 episodes of the podcast, "Coaching For Millennials: Career | Life | LinkedIn." This is a huge milestone and accomplishment. I always say life is meant to be celebrated, big or small. Take the time to appreciate and reflect on what you've accomplished. It's so important to see and recognize your growth and success. Every win is one worth celebrating. 
Reflecting on the last 100 episodes, I really wasn't sure what the show was going to become and where it was going. I only knew that it was something I wanted to do and needed to do for my own sanity. I was in a really shitty place mentally and emotionally and the podcast became comforting. No one was around except me, my microphone and my two goldendoodles. The more I learned about podcasts, creating content, sharing it with the world and seeing what it could become, I knew I was doing the right thing. 
The point is that if you have a dream or desire that you want to achieve, DO IT! Stop making excuses or telling yourself that you can't because it just is NOT TRUE!! We all have gifts and talents just waiting to be uncovered. Our dreams are fueled by what we see, hear, and learn. You just need a little extra push to believe in yourself and do it messy. Because guess what, no one is going to know or care that you're not an expert and that you screwed something up. Follow your heart and mind and take one step at a time. I GOT YOU!!!
If this session brought you value today and if it impacted your life, please share it with someone who needs it. And it would mean the world to me if you would leave me a review! I read every single one of them and give shouts on the show too! XO!
As always, I offer a free discovery call to anyone who is ready to make money moves and I mean really, let's make money moves for you! Below is the link to my Calendly to jump into one of my sessions. 
https://calendly.com/josemiguel-longo/free-30-minute-discovery-call
If the thought of jumping on a zoom is intimidating and you want to keep low key, find me on the Gram, Facebook, and LinkedIn.
Email: hello@coachingwithjosemiguel.com
Insta & Twitter: @josemiguellongo
LinkedIn: www.linkedin.com/in/josemiguellongo
XO,
José Miguel
#podcast #podcasting #podcaster #growth #celebrate #passion #create #journey #career #life #linkedin #success #learn #findyourpassion #skills #talents #gifts #thebestisyettocome
Comments
(0)
To leave or reply to comments, please download free Podbean or