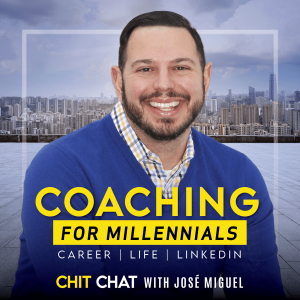 Friday Jan 14, 2022
EP109: New Year! New You! 3 Tips to Help You Get Everything You Want in 2022
EP109: New Year! New You!  3 Tips to Help You Get Everything You Want in 2022
Hello Chit Chatters!!
A very happy and healthy new year to all of you! 
I am so excited to bring you the first episode of 2022! We're kicking it off celebrating another milestone in the show... We hit 32K just last week! I am so grateful and thankful for all of you! 
Thank you from the bottom of my heart for listening, downloading, sharing and being part of this community we've created in 20 short months! I can't wait for the next 30K downloads and who knows what 2022 will bring. 
One thing I am certain of is that it is going to be a beautiful year and we're going to create the life we want and deserve. I can't wait to share with you the amazing episodes I recorded at the end of 2021 with some beautiful people who have some unique stories and identities. I am also looking forward to finally launching my new website and courses! 
For now, let's dive into how to get everything you want in 2022 in 3 simple steps. 
First let reset our minds, focus on our breathing and clear our heads. Take the time to do some breathing exercises to help you get grounded and focus on what you're going to do. 
Now that we have a clear head and a our heart is ready to share our intention, I want you to write these three words
FOCUS +  CHANGE = GROWTH
This formula and three words are what's going to drive you to take action and have an impact on what you want to do this year. For this activity I want you to write 1 thing you want to FOCUS on for 2022. This means, you can have multiple things, but you have to pick the one that you value the most and want to prioritize. 
Then do the same for the CHANGE. Find 1 thing you want to change about you, your life, career, relationship, whatever is, but you need to write the 1 thing you want to change in 2022.  Now follow the same idea with GROWTH. What's 1 thing you want to grow in 2022? This could be your relationship, business, bank account, again whatever you value most. 
Lastly, add a date to each of the things you listed. This date is the date you need to complete the task before the end of 2022. Your deadline and how you're going to hold yourself accountable. 
Let me know what your 3 things are and how I can help you! Message me, DM or email me, I am here for you! @josemiguellongo on Twitter, Facebook, and Instagram. Connect with me on LinkedIn 
www.linkedin.com/in/josemiguellongo and my email is hello@coachingwithjosemiguel.com
COACHING PACKAGES & HOLIDAY PROMOS…..EXTENDED TIL JANUARY 31, 2022
The Launch Your Career Bundle. I've created this package to help young adults and career professionals to explore and gain clarity on their gifts and talents while supporting them in their journey to find a career (not just a job) that fuels them with joy and purpose. 
This package is a 6 week intensive career coaching journey that combines life+career coaching into one with the added value of the Job Search Tool-Kit to get you seen and hired. 
For more information on this package, click on the hyperlink below or the name of the package in blue. 
https://coachingformillennials.thrivecart.com/launch-your-career-bundle/
This package is valued at $2500! 
That's $2000 for 6 Master Career Coaching Session
That's $500 for the Job Search Tool Kit
You can purchase this package today and Launch Your Career for $797!!!
That's over 30% Off the regular price. For a LIMITED TIME ONLY... You can get the $797 price for this package until December 31st, 2021 and it will increase to $2500 on January 1st. 
I have also made it affordable to purchase, because it is the holiday season. You can purchase this program on a flexible payment plan of 4-6 months, whichever works for your budget. 
The Job Search Pivot is one of my most popular packages. It's not a new package, I've re-vamped it after careful review and listening to what my clients need and want. I designed it exclusively for career changers and folks who are seeking to transition from one career industry to another, people who are seeking to retire from one career and start another and for entrepreneurs who want to leave the workforce and start their own business.
It is an all-inclusive package built to help the mid to late career person find clarity in their purpose in life as the transition into a new season in their career journey. 
This package is 3 months of coaching- 2 sessions per month for 1 hour each session. The details of this package can be found in the link below or hyperlinked to the name of the package above. 
https://coachingformillennials.thrivecart.com/the-job-search-pivot/
Here Is Your Promo!
This package is $3000 for 3 months of intensive Master Career + Life Coaching. We dig deep to uncover parts of you may have not explored. We get vulnerable in sharing stories and beliefs that have prevented you in truly getting clarity in "the thing" you're meant to do. We design and map out your future career journey and then take action to get you there! 
For a very LIMITED TIME ONLY... This package is $1000OFF of the $3000 price. That means you can invest in yourself to kick-start your 2022 with a bang and dig deep to develop your passion while designing the career you want! 
PLUS...This package has a flexible payment plan for up to 1 year! You can make 12 payments of $166.66 for 12 months! 
To take advantage of the $1000OFF, use promo code: HOLIDAYPROMO1000OFF at checkout. 
NEW PACKAGE ALERT!!!
Focus + Purpose = Transformation
In this package, I've combined the best practices of two of my most popular coaching packages which are Explore and Focus to bring a transformational life changing experience to your life.
We will focus on helping you radically transform your life to live deeper in your purpose and authentically. We will work together to dig deep in uncovering your biggest challenges on what you're getting stuck with and how to map out strategies to achieve success.
This package is going to radically help you live the best version of YOU! While leading you to your Greatness!
How Does It Work:
20 Coaching Sessions | 1 hour sessions (recorded via zoom) | Meet every other week
1:1 access to me 24/7 via WhatsApp, Text, Messenger or DM's whatever you prefer
What Do You Get:
5-6 Months of Executive Master Life Coaching with specific focus on:
Learning the strategies to self-acceptance, forgiveness and building your confidence to recognize your worth and value

Explore your God given talents to maximise your greatness and life

Learn and change your mind blocking 

Understand what's preventing you from taking action 

Shift your behaviors 

Lead you to take action

Hold you accountable

Become more self-aware

Learn how to manage your saboteur and limiting beliefs

Recognize and take action in shifting your mindset

Help lead a more fueled and fulfilling life

Design strategies to help you map out and design your career and life goals

Uncover your top strengths and help you put them to use
What's the Cost?
$5,000.00 Through January 31, 2022 | Special Promotion of $1,000 OFF if Paid In Full
Payment Plans: This package includes 3 payment plans
3 Months of Payments: $5,000.00/ 3 = $1,667.00 / month

6 Months of Payments: $5,000.00/ 6 = $833.34 / month

12 Months of Payments: $5,000.00 /12 = $ 416.67 / month
**This package has a value of $7,500.00**
***If you're interested in this package and need other payment accommodations, please contact me to help create a payment plan that can work for you!*** 
The links on this page are live and ready for use. If you have questions or experience any issues at the checkout cart, please contact us at hello@coachingwithjosemiguel.com
If this session brought you value today and if it impacted your life, please share it with someone who needs it. And it would mean the world to me if you would leave me a review! I read every single one of them and give shouts on the show too! XO!
Sending you all positive thoughts today and tomorrow! Until the next episode.
Love and Light,
José Miguel
#endofyear #newbeginnings #yearendreview #coaching #newyou #transformation #stepstosucceedingin2022 #motivation #mindset #growth #journey #life #career #millennials
Comments
(0)
To leave or reply to comments, please download free Podbean or