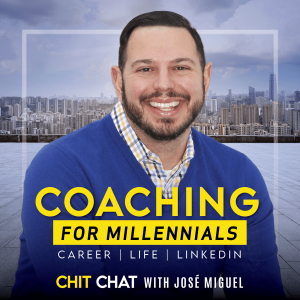 Tuesday Oct 12, 2021
EP92: REFLECTION: A Conversation on Hispanic Heritage Month, National Coming Out Day, Indigenous Peoples Day, & The Great Resignation
EP92: REFLECTION: A Conversation on Hispanic Heritage Month, National Coming Out Day, Indigenous Peoples Day, & The Great Resignation
Hello Chit Chatters! 
Welcome to another episode of Coaching for Millennials. In this episode I am sharing with you some thoughts and observation on recent events taking place this past week and sharing updates on information relevant to the Great Resignation that we are experiencing in our workforce. 
If you're listening to this episode, you know I shared a lot of information. I also asked you as listeners to share your POV and opinions with me. I really want to hear from YOU! 
Drop me an email, DM or a voice note! 
My email is hello@coachingwithjosemiguel.com
DM on FB & Insta: @josemiguellongo
Leave a voice note on all platforms! 
If you are ready to jump on a discovery call and are looking for clarity in your life, career and all the things, here is my calendly link: 
https://calendly.com/josemiguel-longo/free-30-minute-discovery-call
I am giving you 30 minutes FREE!
If this session brought you value today and if it impacted your life, please share it with someone who needs it. And it would mean the world to me if you would leave me a review! I read every single one of them and give shouts on the show too! XO!
#HispanicHertigageMonth #IndigenousPeopleDay #NationalComingOutDay #GreatResignation #Gay #LGBTQ #Latino #Hispanic #Career #Life #Culture
Comments
(0)
To leave or reply to comments, please download free Podbean or