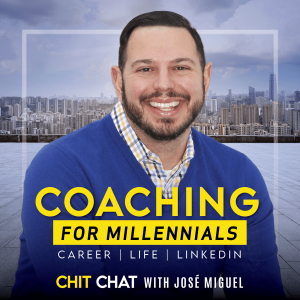 Friday Oct 22, 2021
EP94: YOUR EXPERIENCE, GIFTS, SKILLS & TALENTS- Ways to Use Them to Build a Business & Make Money
EP94: YOUR EXPERIENCE, GIFTS, SKILLS & TALENTS: Ways to Use Them to Build a Business & Make Money
Hello Chit Chatters!
Welcome back to another episode of Coaching for Millennials! 
In this episode I am going deep in helping you all see how valuable your experiences, gifts, skills, and talents are! We all have a God given talent that the world is waiting for us to share with the world. 
RIGHT NOW...we are experiencing a need and urge to uncover how we can live and work more authentically to our purpose and find more joy. 
Using your experience, gifts, skills and talents are pivotal to helping you feel where you should be heading next in your journey of life. Your career doesn't have to define what you do for work nor should it make you feel like you can't pivot and change your mind. Using these skills, experiences, talents, etc. should empower you to find a way to uncover your authentic self while seeing how you can make money using your own gifts and talents. 
The point is, our world and economy has been forever changed by the pandemic, whether you lost your job because of, realized how miserable you were or are in it or realize it's time to live more authentically, you can put to use all of that knowledge and experience into building something meaningful and impactful.
Listen to this episode and let me know if it resonates with you. If it brought you value (and I hope it did) share it with the world! 
As always, I offer a free discovery call to anyone who is ready to make money moves and I mean really, let's make money moves for you! Below is the link to my Calendly to jump into one of my sessions. 
https://calendly.com/josemiguel-longo/free-30-minute-discovery-call
If the thought of jumping on a zoom is intimidating and you want to keep low key, find me on the Gram, Facebook, and LinkedIn.
Email: hello@coachingwithjosemiguel.com
Insta & Twitter: @josemiguellongo
LinkedIn: www.linkedin.com/in/josemiguellongo
XO,
José Miguel
P.S. Here is the link to the article I mentioned about GenZ and Millennials
#money #gig #gigeconomy #business #freelance #entrepreneur #coach #skills #experience #talents #gifts #coaching #neweconomy #control #values #life #career #future #futureofwork #greatresignation
Comments
(0)
To leave or reply to comments, please download free Podbean or